Past Highlighted Research Projects
The following projects have been highlighted because they are innovative, collaborative, and have had impact.
---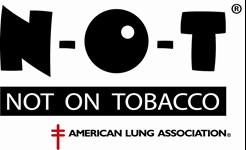 Not-On-Tobacco
A Collaborative Effort of the:

 

American Lung Association of West Virginia & The West Virginia Prevention Research Center at West Virginia University
For many years, West Virginia had one of the nation's highest teen smoking rates. In the mid-1990's WV Prevention Research Center collaborated with the American Lung Association, WV, and national partners to develop a theory-based smoking cessation program specifically designed for teens throughout the state and nation. This program, called Not-On-Tobacco (N-O-T), has been a part of West Virginia's public health efforts since.
 N-O-T consists of ten weekly group sessions delivered by trained facilitators. To date, over 700 teachers, counselors and community members were trained to deliver the program in WV. With over 10 years of research and evaluation behind it, N-O-T reached over 300,000 teens nationwide between 2000 and 2009. It is available in 48 states and several countries. However, WV continues to be a premiere N-O-T state where we continue to develop new and innovative methods to deliver and disseminate N-O-T to teens. In WV (2010-2011), at the three-month follow-up: 
 
30% of teen smokers who completed the N-O-T program reported quitting smoking 
67% of those who completed the program but could not quit reported a reduction in smoking.
 
N-O-T participants report among the highest quit rates for any smoking cessation program currently available to teens. Teens in N-O-T also report higher motivation, better grades, fewer absences, better relationships with teachers.
 
Even with these promising results, many teens in West Virginia do not have access to N-O-T. Competing health priorities, time constraints, and administrative challenges unique to schools and communities often make it difficult to train facilitators and implement the program. To try to address these issues, researchers at WVU, the ALA WV, and state and community partners worked together to create a new model to disseminate the N-O-T program throughout WV.
 
This model utilizes a highly experienced ALA WV Master Trainer as the State Coordinator to provide program oversight and Regional Coordinators representing 5-6 WV counties who are familiar with local youth, schools, and organizations in the identified counties. Along with WVU Research Team members, the State and Regional Coordinators work as a team to help address any challenges facilitators face and offer encouragement and support for program facilitation.   
 
Not-On-Tobacco partnered with WVU Extension Service to recruit exceptional Youth Development Agents to serve as Regional Coordinators for the identified counties.
Regional Coordinators are essential to the program's success. Their responsibilities include:
Recruiting teachers, counselors, coaches and community leaders to work as facilitators
Training facilitators in the Not-On-Tobacco modules and research protocols
Conducting periodic check-ins and assessments for research purposes
Offering support and troubleshooting for facilitators during program implementation
Working with school administrators and community organizations to gain support for the program
Working with West Virginia University and American Lung Association staff to track progress and report to the funding agency
Reporting to the West Virginia University Extension Service to coordinate with their strategic plan for Youth Services
Currently, we are testing the new dissemination model in two Regions and have the opportunity to work with innovative and energetic WVU Extension Agents. In the coming months, we hope to expand our reach and bring this effective and vital program to WV youth smokers.
Smoking Cessation and Opiod Treatment Integration: Does Timing Matter? 
Principal Investigators: Melissa Blank
Start Date: April 2016
End Date: May 2017
Funding Source: WVCTSI, Pfizer, Inc.


Tobacco smoking rates are substantially higher among individuals with substance use disorders (SUDs), relative to individuals in the general population (e.g., 97% vs. 19%, respectively). Yet most treatment programs for SUDs fail to address the use of tobacco among patients, and integration of smoking cessation treatment with SUD treatment may improve outcomes for both drugs. The question remains, however, whether to implement a smoking cessation component immediately or only after a patient is stabilized on their SUD pharmacotherapy. Existing research that directly addresses this factor is limited and findings are mixed. Therefore, the purpose of this study is to compare drug use outcomes among patients at three different stages of their SUD treatment: 0-90 days, 90 days-1 year, and more than 1 year of consistent abstinence from illicit drugs. Smokers currently in treatment for opioid dependence, at the WVU Comprehensive Opioid Addiction Treatment (COAT) program, will be recruited to participate in this 12-week study. A total of 20 patients will be completed from each of the three COAT treatment groups, and groups will be matched on relevant demographic and substance use characteristics (e.g., gender, number of cigarettes smoked per day, nicotine dependence score). During the 12-week intervention period, individuals will continue to attend their regular COAT clinic appointments while following a standard varenicline (Chantix®) dosing regimen, responding to questions daily via text messaging (e.g., adherence to varenicline, use of tobacco, tobacco withdrawal side effects, etc.), and also interacting with a mobile-based cessation program (SmokefreeTXT). The primary outcomes will be those relevant to feasibility: 1) recruitment and retention rates, 2) adherence to treatment components (varenicline and SmokefreeTXT), and 3) compliance with responding to text message-based questions. Secondary outcomes will include a comparison of groups on the 1) proportion of relapses for all substances, 2) proportion of smokers abstinent at each assessment (confirmed with expired air carbon monoxide samples), 3) days until successful cigarette quit day, and 4) substance withdrawal-related symptoms.