Past Research Projects
The following projects have been highlighted because they are innovative, collaborative, and have had impact.
---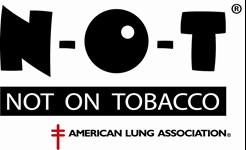 Not-On-Tobacco
A Collaborative Effort of the:

 

American Lung Association of West Virginia & The West Virginia Prevention Research Center at West Virginia University
For many years, West Virginia had one of the nation's highest teen smoking rates. In the mid-1990's WV Prevention Research Center collaborated with the American Lung Association, WV, and national partners to develop a theory-based smoking cessation program specifically designed for teens throughout the state and nation. This program, called Not-On-Tobacco (N-O-T), has been a part of West Virginia's public health efforts since.
 N-O-T consists of ten weekly group sessions delivered by trained facilitators. To date, over 700 teachers, counselors and community members were trained to deliver the program in WV. With over 10 years of research and evaluation behind it, N-O-T reached over 300,000 teens nationwide between 2000 and 2009. It is available in 48 states and several countries. However, WV continues to be a premiere N-O-T state where we continue to develop new and innovative methods to deliver and disseminate N-O-T to teens. In WV (2010-2011), at the three-month follow-up: 
 
30% of teen smokers who completed the N-O-T program reported quitting smoking 
67% of those who completed the program but could not quit reported a reduction in smoking.
 
N-O-T participants report among the highest quit rates for any smoking cessation program currently available to teens. Teens in N-O-T also report higher motivation, better grades, fewer absences, better relationships with teachers.
 
Even with these promising results, many teens in West Virginia do not have access to N-O-T. Competing health priorities, time constraints, and administrative challenges unique to schools and communities often make it difficult to train facilitators and implement the program. To try to address these issues, researchers at WVU, the ALA WV, and state and community partners worked together to create a new model to disseminate the N-O-T program throughout WV.
 
This model utilizes a highly experienced ALA WV Master Trainer as the State Coordinator to provide program oversight and Regional Coordinators representing 5-6 WV counties who are familiar with local youth, schools, and organizations in the identified counties. Along with WVU Research Team members, the State and Regional Coordinators work as a team to help address any challenges facilitators face and offer encouragement and support for program facilitation.   
 
Not-On-Tobacco partnered with WVU Extension Service to recruit exceptional Youth Development Agents to serve as Regional Coordinators for the identified counties.
Regional Coordinators are essential to the program's success. Their responsibilities include:
Recruiting teachers, counselors, coaches and community leaders to work as facilitators
Training facilitators in the Not-On-Tobacco modules and research protocols
Conducting periodic check-ins and assessments for research purposes
Offering support and troubleshooting for facilitators during program implementation
Working with school administrators and community organizations to gain support for the program
Working with West Virginia University and American Lung Association staff to track progress and report to the funding agency
Reporting to the West Virginia University Extension Service to coordinate with their strategic plan for Youth Services
Currently, we are testing the new dissemination model in two Regions and have the opportunity to work with innovative and energetic WVU Extension Agents. In the coming months, we hope to expand our reach and bring this effective and vital program to WV youth smokers.
WV Health Education Assessment Project (HEAP) (2003)
Principal Investigator: Dr. Nancy O'Hara Tompkins The WV Health Education Assessment was administered to 17,000 students in 242 schools in the Spring of 2003. Questions on the assessment covered alcohol and other drugs, injury prevention, nutrition, physical activity, tobacco, and growth and development. In collaboration with the WV Department of Education, Dr. O'Hara Tompkins analyzed the HEAP data in a series of reports, and linked these data with the Youth Risk Behavior Survey and the Behavioral Risk Factor Surveillance Survey. Results of the study suggest significant variations among students in the different grade levels. High school students failed to meet the standard on all the health education content areas. The results also displayed gender variations; females scored significantly higher than males suggesting that health education should be conducted in a way to meet the needs of males and females. The assessments of this study presented the need for more teacher training, support, and practice in implementing the WV health education Content Standards and Objectives (CSOs), which adopt a skills-based approach to health education that enable the students to practice the skills they need to avoid risky and unhealthy situations and adopt healthier lifestyles. These changes not only encourage teachers to increase their commitment to providing quality school health education, but also illustrate how a state education agency can implement assessment strategies and monitoring recommended by the CDC. O'Hara Tompkins, N. Kamal, K, Chapman, D. The West Virginia Health Education Assessment Project. Journal of School Health, 75(6): 193-198, 2005.
Kaleidoscope Community Learning Center (2002-2004)
Principal Investigator: Dr. Kimberly Horn The Evaluation Oversight and Coordinating Unit of the Prevention Research Center was evaluated an Elementary after school program supported by a three-year grant from the 21st Century Community Learning Center (U.S. Department of Education) The Kaleidoscope Program, which served over 1000 students from 12 schools in Monongalia County, operates in both the academic year and the summer months. Kaleidoscope's mission is To develop the capacity in all school-aged children to become healthy, caring, capable adults through relationships formed and the enrichment programs offered at the Kaleidoscope Learning Centers. These enrichment programs include academic and physical activities, arts & crafts, healthy lifestyle instruction, and special programs for English Language Learners. Kaleidoscope children and their parents also have access to counseling services. Parents have access to counseling and printed materials related to parenting. As an outside evaluator, the PRC's role was to ensure that the Kaleidoscope program achieved it's goals by recommending program modifications and adjustments based on the results of direct observation, parent and child surveys and interviews, and focus groups.
 Health Promotion for WV Preschoolers and Their Parents (2002-2003)
Principal Investigator: Dr. Carole Harris This multi-year project used the Theory of Planned Behavior (TOPB) to investigate the obesity-related health beliefs and practices of the parents of preschool children in WV. The information obtained was used to develop a tailored Health Promotion Program (HPP). Originally planned as a three county program (Barbour, Preston, Taylor), the project was expanded to include one additional county (Randolph). A 12-member Community Advisory Board was formed to provide guidance to the investigators. The research was conducted both qualitatively and quantitatively. Eight focus groups (three with parents, four with Community Leaders, one with teachers) were conducted; 213 parents completed Health Beliefs Questionnaires (HBQs). Although data analysis is not quite complete, there was sufficient data to enable the investigators to develop the culturally-tailored Health Promotion Program. It is designed to improve the nutrition and physical activity patterns of preschoolers and their parents. A pilot test will be underway soon, after which they plan to deliver the program to 500 pre-school children and their families.
Health Sciences and Technology Academy (HSTA) Education and Outreach on Healthy Weight and Physical Activity (2003)
Principal Investigator: Dr. James Rye This CDC-supported project was intended to increase physical activity opportunities/levels in West Virginia communities, while also providing learning experiences for Health Science Technology Academy teachers and students. The project had several components. First, the team developed and pilot tested a sequence of three graduate education courses and related workshops on nutrition and obesity for HSTA teachers. These were held in the spring and summer of 2003. The investigators then developed and piloted a campus-based summer institute curriculum on obesity for HSTA teachers and students that integrated nutrition, behavioral science, exercise physiology and educational technology. Approximately 128 students (facilitated by 15 teachers) completed the student experience. Finally, six HSTA clubs were funded to develop plans and research projects to increase opportunities for physical activity in six WV communities. Further details about this project are available at: HEALTH
SCIENCES TECHNOLOGY ACADEMY (HSTA). The publications involving HSTA that emerged from this project are also listed at the NIH-SEPA component of the HSTA web site: NIH-SEPA Publications.
Zizzi, S., Vitullo, E., Rye, J., & O'Hara Tompkins, N. (2006). Impact of a Four-Week Pedometer Intervention on High School Students' Daily Step Counts and Perceptions of Physical Activity. American Journal of Health Education, 37, 35-40.
Rye, J., Zizzi, S., Vitullo, E., & O'Hara Tompkins, N. (2005). The Pedometer as a Tool to Enrich Science Learning in the Context of Public Health. Journal of Science Education and Technology, 14, 521-531.
O'Hara Tompkins, N., Rye, J., Zizzi, S., & Vitullo, E. (2005). Engaging underserved, rural youth in physical activity promotion research in an after school setting. Preventing Chronic Disease, 2 (Special Issue), A15. Available on-line: Engaging Rural Youth in Physical Activity Promotion Research in an After-School Setting
Rye, J., & Smolski, S. (In press). Pedometer and Human Energy Balance Applications for Science Instruction. Science Activities.
 SIP 9 - Cardiovascular Health Intervention Research and Translation Network (CHIRTN)
Principal Investigator: William M Neal (wneal@hsc.wvu.edu) Start Date: July 2005 End Date: June 2009 Funding Source: CDC Yearly Amount: $75,000 The West Virginia Prevention Research Center is one of six PRCs that make up the CDC funded CHIRTN network. The purpose of CHIRTN is to synthesize scientific evidence on interventions to promote cardiovascular health, develop a cardiovascular health research agenda to address gaps in knowledge, conduct research projects to fill targeted gaps in existing knowledge, and translate efficacious interventions in order to develop resources to promote cardiovascular health in communities and nationwide. The network will disseminate network findings and tools widely to encourage and assist other organizations working to promote cardiovascular health.
WV Healthy Start/HAPI Project
Principal Investigator: M. Y. Dawood Start Date: June 2005 End Date: May 2009 Funding Source: Health Resources & Services Administration (HRSA) Yearly Amount: $700,000 This project is designed to help low-income pregnant women to have better birth outcomes. Assistance is provided during pre-natal care and up to 2 years post-partum. We will also be measuring the effects of an aggressive dental hygiene intervention on birth outcomes.
FAX to QUIT: Smoking Cessation Among Pregnant Women
Principal Investigator: Kimberly Horn (khorn@hsc.wvu.edu) Start Date: October 2008 End Date: September 2009 Funding Source: USDHHS Centers for Disease Control and Prevention Yearly Amount: $99,073 FAX to Quit is a method of referring patients who smoke to appropriate cessation services. If a patient agrees to receive intervention, a provider faxes a patient agreement for to a telephone quitline immediately following a patient clinic visit. The Fax to Quit program is geared toward healthcare providers and is intended to be brief. The program is based on the principles of the 5 A's as developed by the US Public Health Service (AHRQ clinical guidelines) for treating tobacco use and dependence.
The PRC Core Demonstration Project - Quit & Fit: Improving health among rural teens
Principal Investigator: Kimberly Horn (khorn@hsc.wvu.edu) Start Date: October 2004 End Date: September 2009 Funding Source: CDC Yearly Amount: $215,873 The primary goal of the core research project is to reduce smoking among youth using the Not On Tobacco program with the addition of a new physical activity module (Quit & Fit). A two-pronged secondary goal is to (a) increase participants' physical activity by supplementing the intervention with the Quit & Fit module and (b) assess the mediating/moderating impact of physical activity on cessation outcomes. This project will focus on tobacco use, particularly smoking, and sedentary lifestyle in rural communities. It is related to ongoing efforts with youth smoking cessation and the N-O-T program. N-O-T is the American Lung Association's smoking cessation program for teens, developed by WVU's PRC. It contains ten 50-minute sessions that occur once a week for approximately ten consecutive weeks. N-O-T is delivered in same gender groups, comprised of no more than 12 youth, by same gender facilitators. All groups are administered in private settings. All facilitators receive standardized training from the ALA. The Quit & Fit physical activity module will be added to the N-O-T curriculum. This curriculum is being developed using input from students, community members, parents, teachers, and trained N-O-T facilitators. Approximately 45 schools across the state will participate during the course of the research. It is anticipated that the addition of the physical activity module will lead to higher levels of smoking cessation/reduction than previously found in the N-O-T program as well as improvement in physical activity. 
PREPs Research Project: Message Testing on Potentially Reduced Exposure Products (PREPs), (Office of Smoking and Health (OSH) Supplement to PRC)
Principal Investigator: Robert H Anderson (randerson@hsc.wvu.edu) Start Date: May 2005 End Date: September 2006 Funding Source: CDC-Office on Smoking and Health (CDC-OSH) Yearly Amount: $140,000 Determine perceptions of PREPs by smokers, former smokers, and young potential smokers in terms of message concepts and themes developed with the intention of counteracting what may be positive consumer opinions of PREPs; and, to relate consumer perceptions to their own smoking behavior.